PERMACULTURE CAIRNS WORKSHOPS
Permaculture Cairns
"Grow your own food in the tropics "Series of Workshops
How to turn dirt into soil,
Saturday 26th January 2019    9am to 12noon
Presenter: Carol Laing
Topics In this workshop
How to tell if you need Soil conditioners, what is your soil like, adding Minerals, how to add
Organic Matter and how to increase Microbes in your soil.
Why increasing organic matter and microbes in your soil are important
Using plants to improve your soil
Workshops will be held in Cairns.
COST: $30 for Members of Permaculture Cairns and $35 for non- members
includes morning tea.
Register by emailing Carol Laing at – info@permaculturecairns.org.au
_______________________________________
Wicking Bed & Introduction to Soldier Flies
with Len Specht
Saturday 20th June 9.30am to 12.30
In this workshop you will make a wicking bed to take home. Learn about the Wicking Bed, it benefits, how it works and what it can do for you. grow food with less water and save on watering time. You will be able to go away for 3 – 4 days and not have to water. And Len will give us an insight into the breeding of  Soldier Flies which are a rich source of  food for chooks and fish. They also reduce kitchen scraps very quickly, within a few days.
Registration and payment of the booking & materials fee is essential
Permaculture financial members $25, Non Members $30 Bartles 25+$5
Register at:      workshops@permaculturecairns.org.au
Payments may be made at Cairns Penny bank in Grafton Street or online to Permaculture Cairns bank Account: BSB 704-966 A/c No.  100009440  use your Surname as reference.
Venue:- Bungalow Community Gardens on cnr Aumuller and Spence Sts.
—————————————————————————————-
Download 27th June Workshop PDF Here
Plan your garden from scratch with biodiversity in mind
with Jenny McGrath
27th June 9.30am to 12.30 noon
Jenny will  plan the garden using  permaculture principles and practices  the very best outcome is achieved from your land.
Building Biodiversity into the garden will help with pests management and bring wildlife into your garden.
Registration and payment of the booking & materials fee is essential
Permaculture financial members $20, Non Members $25
Register at: workshops@permaculturecairns.org.au
Payments may be made at Cairns Penny in Grafton Street or online to Permaculture
Cairns Penny Account: BSB 704-966 A/c 100009440, use your Surname as reference
 Venue: Will be in Brinsmead. Address advised on registration and payment of fees
Morning tea will be provided
A big thank you  to our  Sponsor,  Cairns Regional  Council Sustainability Grant Program for making these workshops possible.
-o-
Building Resilient Communities Workshop Series 2014
We were successful in applying for a SITA Community Grant for 2014.
You have missed out on :-
23rd May – Harvest, Prepare and Eat from the Permaculture Garden
11th April – The Permaculture Garden Workshop
21st March 2015 – Learn to make plants from cuttings and seeds
18th October – Recycling Kitchen Organic Waste 
23rd August – All About Earthworms 
9th August – Growing food in Small spaces
26th July – Craft and Permi Day
GROW NUTRIENT RICH FOOD  21st June 2014
Learn how to improve your soil so your vegetables and fruits have high levels of
minerals and vitamins.
Learn what to add to your compost and soil to make it high in beneficial plant nutrients.
Why Heritage seeds are important. Why saving your own seed is important.
We will cover, soil structure, soil conditioners, beneficial microbes, compost tea brewing,
dry & liquid fertilizers.
We will learn about using a refractometer to gauge the nutrients in plants & vegies both
home grown or store bought.
CREATE A BANANA CIRCLE  7th June 2014
We/you  will actually build a circle for planting bananas/pawpaw and/or other companion food crops and you will learn about the benefits of having a Banana Circle, such as
creating  a place to grow food where it will be feed by organic waste from your garden,

to absorb or redirect water runoff where required

to  recycle large organic waste items too large to recycle in home compost bins or heaps such as palm fronds, palm trunks, banana trunks and large cuttings from trees and shrubs.
 This workshop would suit the backyard or  small scale grower and also the grower with commercial interests
Our first workshop RECYCLING ORGANIC WASTE was held on 17th May. It  went ahead rain, hail or shine, we just
all had an umbrella. The workshop was well attended and everyone learned  how to make compost from organic waste. A big thank you to Jade and Daniel from King Brown Compost, Mareeba and SITA Community Grants Program.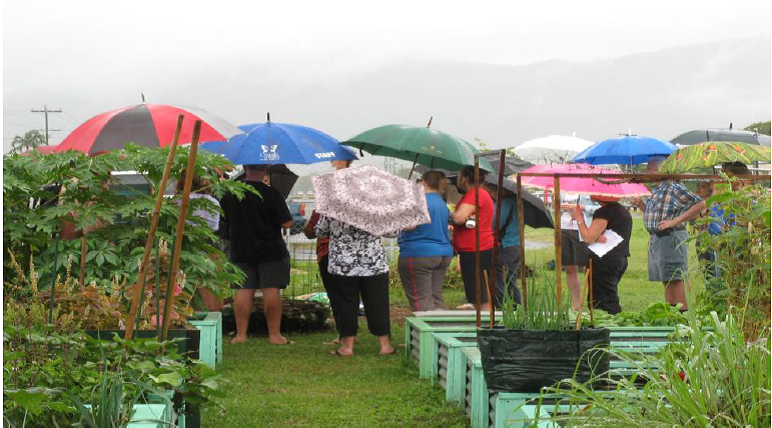 The compost from this day is to used for the banana circle on the 7th June.
INTERNATIONAL PERMACULTURE DAY – MOVIE AFTERNOON
"Reclaiming food freedom"
THIS SUNDAY – 4th May 2.30 to 6pm
Come have afternoon tea and watch a movie that matters
Join us for a chat and some networking
Where: Flexible Learning Centre
90 Clarke Street
Manunda
 Gold coil donation would be appreciated.
Building Resilient Communities Workshops Series Begins
2013 SKILLING WORKSHOP SERIES

Wicking Bed – Create a water wise garden using wicking beds.
Kickstart your garden – Where best to grow your vegetables. Bring the soil up to scratch. What to plant and how to look after your garden.
Ferro Cement Construction – Ferro cement is a very useful way of building, garden pots, seats, sculptures and even houses.
The Water Garden, with ROBERT VIRGINIE – Want a pond, Rob will tell you what you can grow and have in the pond.  More details later.
---
2012 WORKSHOPS
Creating  Resilient Communities Workshops – Permaculture Principles and Practices
Growing your own fabulous organic food
Earthworms –what they can do for you
Aquaponics – fish and vegetables
Wicking beds
Learn how to make hot compost
Create a raised garden bed
Tropical Vegetables that grow all year round
Cooking and eating Tropical Vegetables
Drying and Preserving excess fruit and veg
Balcony or Patio food garden
Waste not want not – recycling organic waste
Microgreens and the Bokashi Bin
These Workshops were made possible by :-
a CAIRNS REGIONAL COUNCIL, Climate Change and Sustainability Grant,
 Flexible Learning Centre, for the venue
and Enviromart Australia for a Worm Farm to use in workshops.
Our many  thanks go to our Sponsors for their support.